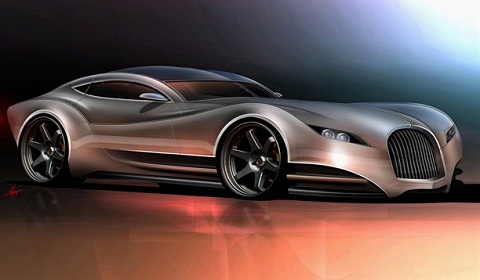 Design sketches of Morgan's new Eva GT have hit the internet hours ahead of its official unveil at the 2010 Pebble Beach Concourse d'Elegance. The four-seater luxury grand tourer will be production ready by 2012 as a flagship model for the English company.
The lightweight bonded aluminium chassis has been taken from the Aeromax. It offers enough space for four and their luggage.
Bodywork is also machined from aluminum. Overall, the Eva is larger than the Aeromax, it measures 4.7-metres in length, 1.8-metres in width and 1.2-metres tall.
The Eva GT is powered by a direct injection, twin-turbo straight six sourced from BMW. The engine should be good for 302bhp and 295lb-ft of torque, enough to take the car from 0-100km/h (62mph) in 4.5 seconds and on to 170mph. The car weighs just 1250kg in weight with economy figures of 40mpg and 200g/km CO2 emissions. Owners will have a choice of either a six-speed ZF automatic or six-speed manual gearbox.
In terms of technology, the Eva GT won't be the same as other Morgan models. It features anti-lock brakes, electronic stability control, xenon headlights and satellite navigation, as well as the latest multi-stage airbags.
Charles Morgan told Autocar, "It's intended to be capable as serving as everyday family transport as well as a luxury GT. The rear seats will be comfortable for children and small adults, and should serve for occasional use for taller occupants."
Price should be between £70,000-£85,000 but will be dependant on interest for the car. Deposits are being taken for delivery in 2012.