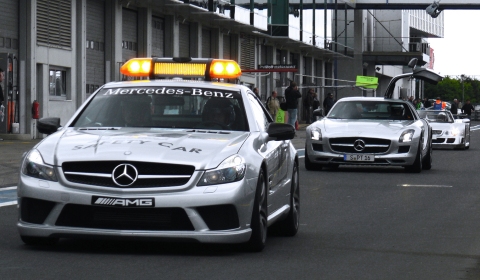 The ADAC Eifelrennen held last weekend brought together an unique line-up of Mercedes-Benz cars driven by former racing drivers. The senior in the driver line-up was sports car legend Hans Herrmann (82). Other drivers were Dieter Glemser (71), Jochen Mass (63), Roland Asch (59), the current F1 safety car driver Bernd Mayländer (39) and five-time DTM Champion Bernd Schneider (45).
A total of six unique cars were driven, such as the Mercedes Simplex (built in 1902). Also the oldest vehicle running at the event at the Nürburgring in Germany. A Mercedes-Benz SSK (1928) and the Mercedes Benz 300 SLR of 1955 – also known as the "Uhlenhaut coupe" – were other historical exhibits.
The special Mercedes-Benz C111-IID was constructed as an experimental vehicle for future sports cars with a diesel engine reaching several driving and consumption records. The recent history of the brand was represented by a CLK GTR Roadster and the SLS AMG.
[Pictures via Chris Wevers]