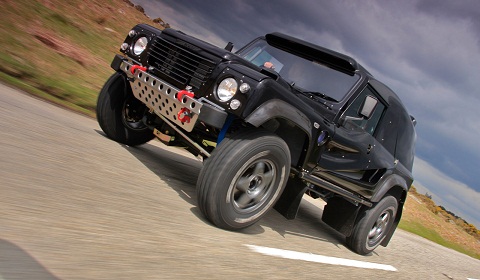 QT Services, the company who bought the rights to produce the Wildcat from Bowler Offroad, have just announced that the first road-legal 300STR has left the production line. The ultra-reliable 4×4 features a few 'creature comforts' to make it barely able to ride on public roads. The 300STR still features a fully welded tubular chassis, four-wheel drive, five-point harnesses, heavy-duty differentials and drive-shafts.
Underneath there is a 4.0 liter Rover V8 developing over 270bhp, running through a five speed synchromesh gearbox with a two-speed transfer box. 0-100km/h (62mph) happens in just 5.8 seconds no matter where you are! Inside you get air conditioning, bluetooth, an iPod dock and stereo hi-fi.
QT Services boss, Dave Marsh, has been quoted saying;
If you consider that the 300STR is essentially a two-seater, there are a number of options open to you and this first production 300STR has been specified with rear storage for the new owner's golf clubs. We would love to be there when he rocks up to the clubhouse and parks it next to the Astons and Mercedes! Definitely a head-turner.