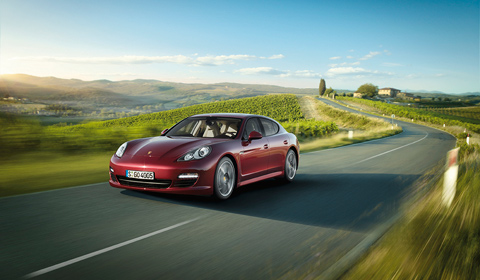 The eight-cylinder Panamera models are entering the next model year as of August 2010 with a new set of options. Particularly the new brake energy recuperation system featured as standard, together with optional 19 inch all-season tyres offering reduced roll resistance, give the Panamera Turbo a further improvement of fuel consumption.
The battery is being charged primarily during application of the brakes and, respectively, in overrun. When accelerating, on the other hand, the field current in the alternator is reduced, minimising the load acting on the combustion engine since it is now required to deliver even less energy for charging the battery, instead making this energy available for even faster acceleration.
Porsche Torque Vectoring Plus (PTV Plus) now available as an option together with Porsche Dynamic Chassis Control (PDCC) and a fully controlled rear axle differential lock enhances the driving qualities of the Panamera V8 models. PTV Plus results is even more direct and dynamic steering when entering a bend and at the same time PTV Plus, in conjunction with the rear axle differential, improves traction on the rear wheels when accelerating out of a bend on the road.
Porsche is also extending the range of paintwork colours, leather options and special equipment for the Panamera. The Gran Turismo is now also available with auxiliary heating and a three-spoke sports steering wheel with gearshift paddles on cars equipped with PDK Porsche-Doppelkupplungsgetriebe. Three-dimensional presentation of maps is now also combined with a satellite image. Even traffic lane information is provided in this way for complex road junctions in Europe and the USA. Finally, the speed limit indicator so far covering only the Autobahn, motorway and interstate now also comprises main roads and major routes leading out of town.