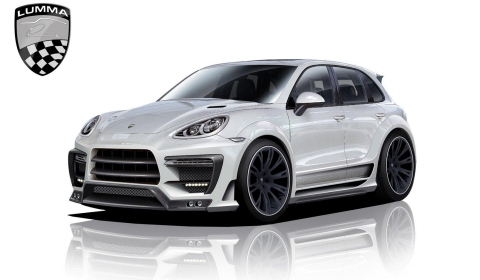 LUMMA Design is the first tuner to reveal its program for the brand-new Porsche Cayenne, named CLR 550 GT.
The appearance of the SUV has drastically been changed and includes a new front spoiler with a deep drawn cup spoiler sword and additional carbon applications that give the Porsche an aggressive "overkill" look. The added LED daytime running lights and the fog lights unit are part of the new front. Also available are headlight rings and tail light trims.
The new sporty bonnet is made from high-performance materials such as carbon and Kevlar. The gill-like air inlets provide improved heat dissipation from the engine compartment, and the elevated windscreen wiper cover reduces the aerodynamic drag. The bold wing extensions and side skirts continue the aerodynamic optimisation of the Cayenne.
The rear section gets a new rear spoiler with integrated carbon diffuser. Incorporated into the centre of the spoiler are the three stainless steel tailpipes. The roof edge spoiler and the tear-off edge on the tailgate, both made of carbon, finalize the rear design.
LUMMA Design uses forged 11×23 inch aluminium rims with a deep wheel hub.