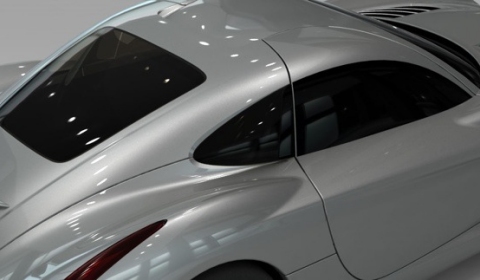 Panoz Auto Development is getting ready for the official introduction of their third new model at the 2010 Le Mans endurance race. The Abruzzi 'Spirit of Le Mans' is displayed on the teaser picture giving a first glimpse of the shape of the vehicle.
Founder Don Panoz stated:
We wanted to wait until Le Mans to release official photos of the car, but today we are providing a 'teaser' image of the Abruzzi 'Spirit of Le Mans' that hints at what the final car will be like. After seeing numerous illustrations posted on the Internet claiming to be the 'Panoz Abruzzi' – none of which have been accurate – I thought it was important to provide some factual information in advance of the actual unveiling.
Panoz stated they will use several new technologies employed in the design and construction of the new vehicle. The body is constructed using REAMS material technology, standing for Recyclable Energy Absorbing Matrix System. The Abruzzi also introduces a three-stage TRIFECTA COOLING technology. It is an innovative development that improves both engine performance and efficiency.
The car will occupy center stage in the village at the track from June 7-13.
[Via American Le Mans]