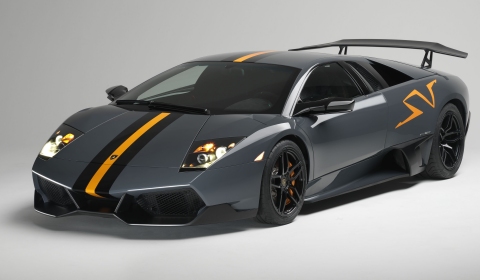 Italian carmaker Lamborghini has shown an exclusive edition of the Murciélago LP 670-4 SuperVeloce at the 2010 Beijing Auto Show. The Chinese Edition is limited to not more than ten numbered cars and will be offered to the growing group of sports cars collectors in China only.
An orange stripe on the flat grey painted carbon shell of the Murciélago is the only major difference with the standard model. Every model holds a numeration badge with the name of its owner.
The Murciélago LP 670-4 SuperVeloce is more powerful, lighter and faster than the Murciélago LP 640. The output of the 6.5 liter V12 increased to 670hp and a weight was reduced to 100kg (220lbs). The SuperVeloce boasts a power-to-weight ratio of 2.3kg (5.1lbs) per hp. It sprints from zero to 100km/h in just 3,2 seconds and hits top speed at 342km/h.