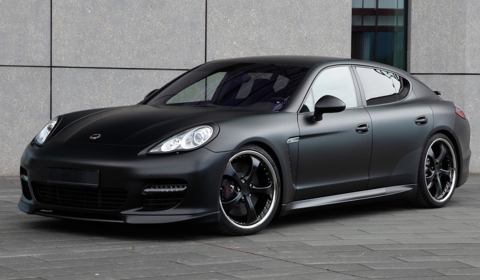 TechArt has revealed another package for the Porsche Panamera; the Black Edition. This edition follows the Concept One introduced at Geneva Motor Show and the standard Panamera program.
Its exterior is entirely in matt black. The aerodynamic kit I, the daytime running light system in black and the exhaust system are all part of the complete picture. Just the red logotype in the spokes of the 22 inch Formula II light alloy wheels provide a point of contrast in the deep black.
In the interior, the Black Edition also does credit to its name. The black leather is combined with alcantara, hand-sewed decorative stitching and leather piping in flamenco red. In addition, all interior components like trims, door entry guards, cup holder or air vents are painted in a matt black design.