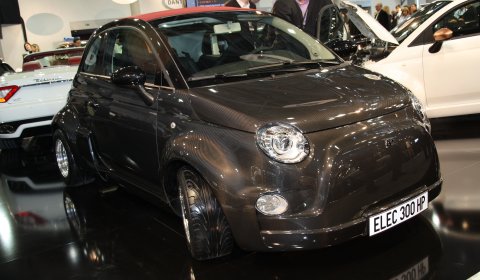 The French company Atomik has unveiled its Fiat 500-based electric vehicle to the world. The small city car has completely been re-engineered. It includes a brand new electric power plant powering all four wheels. There is an engine in the front and in the back. The weight distribution is 50/50 to ensure decent driving characteristics. The battery is placed at the rear of the city car.
The engines produce a total of 280bhp, catapulting the Atomik 500 from 0-100km/h up to five seconds. Top speed is limited to 180km/h.
The range of the setup is only 200km, enough for urban traffic. A full recharge takes up to eight hours.
The body work is completely carbon fiber and can be painted in any possible color requested. Same goes for the available wheels and rims. They are installed on the vehicle to characterize the racing heritage.
Atomik is taking orders as we speak. Pricing is unknown at this moment.