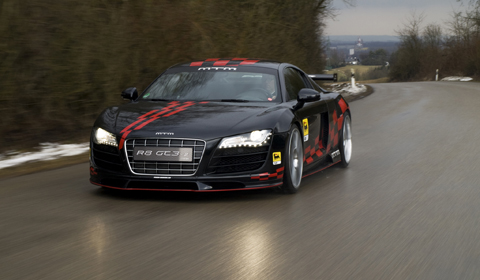 MTM have announced their latest project for the R8 V8, the two-wheel drive GT3-2. MTM have replaced the quattro drive system, installed as standard by Audi on all R8 V8's, with a rear-wheel drive system tuned by MTM engineers. MTM becomes on of the first tuners to offer such an upgrade, maintaining the cars street legal status at the same time.
The rear-wheel drive system has been developed entirely by MTM and features a locking differential. However, it's not only the two-wheel drive system that's modified on this car. MTM have introduced a healthy power kit lifting the total horsepower figure to 560 and toque to 580Nm. As a result, 0-100km/h (62mph) comes in just 3.9 seconds with top speed estimated at 317km/h (197mph).
The purpose behind the kit is to create a package for the true driving enthusiasts. With that in mind, MTM have included an adjustable suspension kit to optimize the R8's driving dynamics. Further to this there is a new carbon fibre front spoiler, side skirt and rear wing to ensure a better air flow. Visually, the car now resembles the factory built R8 GT3.
A new exhaust system provides a distinctive noise, 20 inch rims in the size 9×20 ET 42 (front axle) and 12,5×20 ET 60 (rear axle) are also fitted and a brake system sized 380x34mm completes the package.
For pricing and availability contact MTM.