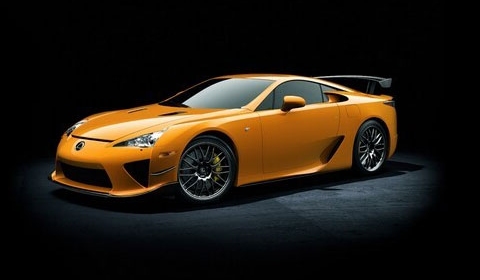 Only 50 of the 500 2011 Lexus LFAs will be a Nürburgring Track Edition, according InsideLine. The special edition commemorates the car's third appearance in the Nürburgring 24 hours race starting this May.
Just to recap. The special edition has a larger front spoiler, fin-type side spoilers and fixed wing on the back. There is 10 extra horsepower produced by the V10 engine. Furthermore, the shift times are improved by 0.05 seconds. So it will now take 0.15 seconds to change gear. The suspension is sports tuned and the wheels are outfitted with stickier tyres.
The package is complemented with a driver instruction and a 1-year pass for the Nordschleife.