Skyline is the codename when you talk about sports cars from the Japanse brand. It has been a while since we saw a genuine sports car coming out of the sheds from Nissan. By combining 485bhp – nearly 200bhp more than its predecessor – a 3.8-liter twin-turbo V6, double-clutch gearbox, advanced four-wheel drive, traction control and a lot of aluminium and carbon fiber Nissan created its most potent car yet; the 2010 GT-R.
Every pertrolhead knows the heritage of the R32 Skyline GT-R, produced from 1989-1993, because of its equal performance to the iconic Porsche 959. This time Nissan's benchmark for the GT-R is a bit different? Porsche 997-series 911 Turbo. The main reason to build the GT-R was two-sided: the base price had to be about $70,000 and secondly, the car had to be profitable, not an image-boosting "halo car". Over the past period the GT-R has proven himself on both subjects.
Our task was to check out the abilities of the vehicle. Of course, it has been around for a year or two now, so for some of you there is not a lot to tell. However, it was our first experience with the upgraded 2010 Nissan GT-R.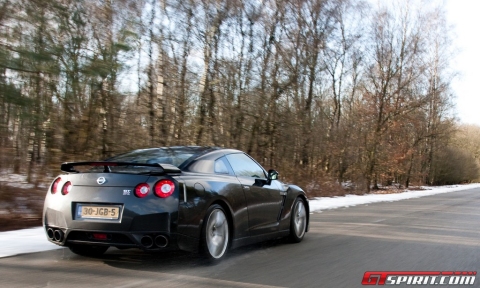 The package delivered to us was a 2010 Nissan GT-R in a black livery connected to every possible gimmick inside and placed on 20 inch Bridgestone high-performance winter run-flat tires. Which meant enough grip while searching the boundaries of the Japanese setup in damp conditions.
Highlights? Of course the engine. The 3.8 liter V6 – hand-assembled in a "clean-room" – is superb, provides power when you need it 588Nm (434lb-ft) between 3200-5200rpm and was the first to smash the so-called 276bhp 'gentleman's agreement' set with the Japanese government. Nissan replaced the expensive ceramic turbochargers of the last Skyline GT-R and replaced them with steel items that offer a more rapid pickup with the disadvantage of being harder to replace when worn out.
Linked to a six-speed twin-clutch gearbox the 1715kg GT-R sprints to 100km/h (60mph) in 3.2 seconds and performs a 11.6-second quarter-mile at nearly 193km/h (120mph), all thanks to its launch control function. The paddle-shifted sequential transmission uses separate wet clutches for the odd (1st, 3rd and 5th) and even (2nd, 4th and 6th) gears. Up- and downshifts are instantaneous. The paddles are connected to the column.
Secondly? The drivetrain and suspension set up. The GT-R's 53/47 weight distribution (50/50 under full acceleration) is mainly due to the "Premium Midship" chassis and rear-mounted transmission, not often seen on an all-wheel drive vehicle. The Bilstein DampTronic shock absorber system has three selectable settings: Comfort, Normal and Race. The same is available for the VDC system and the transmission's shift operation. It even includes a Snow mode. Limited-slip differentials on the 4WD system are available and will be struggling when you increase the wheel speed.
This 2010 version gets brakes upgraded with more rigid lines for improved durability and calipers wearing Brembo logos. The new Transmission Control Module (TCM) is reprogrammed to optimize clutch engagement for improved acceleration and driveability. The suspension is retuned with new Bilstein shocks and revised spring rates. Noticeable? Unknown, but the setup as it is drives is wonderfully.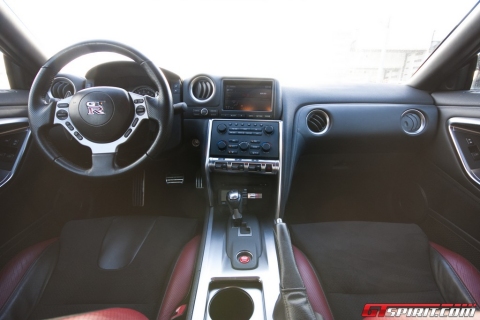 The GT-R feels like a rear-wheel-drive sports car. Oversteer out of tight bends can be an easy job. You never feel insecure and we were amazed how easy it was to drive at the limit. Its agility helps to make the car feel lighter and smaller than you know it really is. The same can be said for your every day drive. The ride is never less than stiff, but also never notoriously hard and unpleasant. The modes are available but you will never use them on a normal day. At the track you shift to race mode and feel the capabilities of the vehicle under your seat.
Weakness? The interior! Only children will fit on the back seats, the dashboard feels a bit plastic and the amount of buttons in front of your eyes is an ergonomic disaster. It took us half an hour to find the buttons for the seat heating. However, it is solidly constructed and equipped with every possible gimmick you can get hold off; Bluetooth phone connectivity, 11-speaker Bose audio system with two subwoofers, in-dash Compact Flash card reader and a navigation system with a 30GB hard drive from which you can use up to 9.5GB for audio storage.
Anything else? Just look at that center instrument panel. A tweaker's toy! It is unique, has a touchscreen and is multi-function with eleven available pages of information you can move around per page. The info includes mechanical and driving data like acceleration or deceleration, brake pedal pressure, steering angle, forward and lateral G-forces, but also a recording function with playback. A lovely system to play around with and to record your trackday results.
The Nissan GT-R is a road-rocket dropped out of a video-game suited for your every day drive and a super-fast lap around the Nurburgring during the weekends. What else do you want? Perhaps a better interior – meaning less plastic – or a bigger presence in a high class shopping street. But hey, you can live with those when you see the price tag of this high performance sports car. This civilized street machine goes like it should, corners brilliantly and steers in any direction you point it to. Name one four-wheel drive vehicle which is more powerful and suitable for a daily drive then this high performance sports car! Oh yes and do not forget the price tag, gimmicks included.