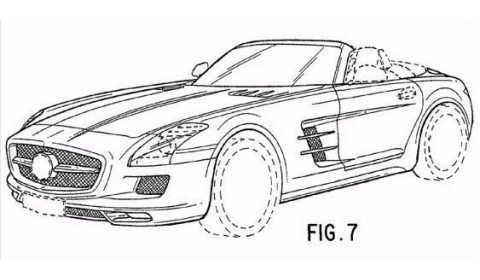 Mercedes-Benz has offered the first glimpse of the true shape of the upcoming SLS AMG Roadster to an European patent company. The roofless 'gullwing' supercar will be introduced somewhere the end of this year or the beginning of 2011. The vehicle will hit the roads at the second half of next year.
The drawings follow the first camouflaged pictures in December last year. The second SLS hasn't got any roof-hinged doors. Those are replaced by normal front-hinged variants.
Other noticealbe points are the different side profile and additional structural reinforcements to its aluminium chassis making up the loss of rigidity. To keep the weight as low as possible, the SLS Roadster has been equipped with a fabric soft top rather than a folding metal roof.
The package under the hood stays identical to its existing brother. The same 420kW 6.2 liter V8 powers the rear wheels via a rear-mounted seven-speed twin clutch transaxle.