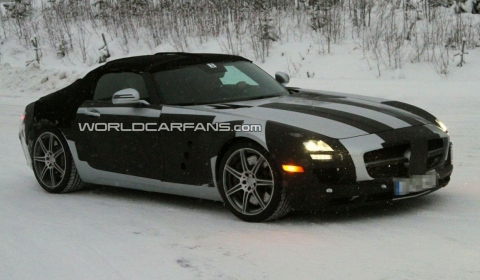 Spy photographers at WorldCarFans have spotted the Mercedes SLS AMG Roadster undergoing winter tests in Northern Europe. If you look at the shape of the vehicle there is hardly any difference with the coupé. The Roadster has – of course – a fabric roof and looses the gullwing doors and fixed roof. To ensure chassis stifness, reinforcements are added in the body work.
The increase in weight will be noticeable in the performance figures. However, an acceleration from 0-100km/h will be done in approximately four seconds. A top speed of close to 309 km/h (192 mph) will be possible.
The engine stays the same and is the 6.3-liter V8 engine producing 420kW (571hp) and 650Nm of torque.
The Mercedes-Benz SLS AMG Roadster will officially be unveiled at the Geneva Motor Show in March 2010.