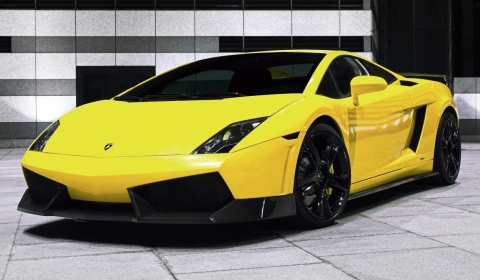 The Swiss-based tuner BF-Performance has developed a program for the Gallardo LP560-4 Coupé and Spyder. One of the parts added to the GT600 package is an aerodynamics kit entirely made out of carbon.
At the front, there are large air inlets inside the front spoiler which should follow the shape of the Lamborghini top model Reventón. Side skirts, rear diffuser and carbon rear wing give the Gallardo the final touch. The wing doors are normally limited to Lamborghini models with twelve-cylinder engines. BF-Performance installed a similar system on the GT600 with doors which are so typical for Lamborghini.
They also offer a package in which the sports car can be modified from a four-wheel drive car to a rear-drive supercar. This way, the GT600 combines this feature of the Gallardo LP550-2 "Valentino Balboni'" with increased performance. The new engine concept saves 43kg of weight.
Apart from the sports bucket seats, BF-performance also offers five-point belts, a roll-over cage and a carbonceramic braking system. On the inside, the manufacturer uses carbon on the steering wheel, door handles, ventilation grids and the switch casings. The customer can opt for carbon in his favourite colour.
BF-performance offers the entire car with all components either as the Coupé GT600 or also as the Roadster GT600 Spyder.