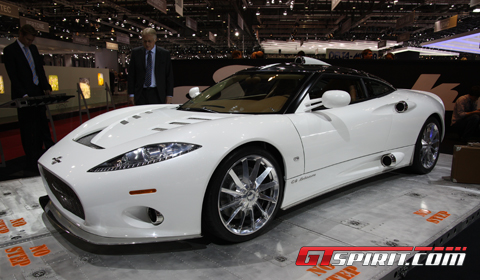 Next to the European premiere of the C8 Aileron Spyder, the Dutch manufacturer showcased two other models; the Spyker C8 Aileron dressed in a white livery and the race-biased LM85. We checked out both and made a nice gallery of each one.
The C8 Aileron is a long-wheelbase version of the Spyker C8 Laviolette featuring a 4.2-liter V8 from Audi with an output of 400hp. The true GT-style vehicle will sprint from zero to 100km/h in 4.5 seconds, on its way to a top speed of 187mph.
The C8 Laviolette LM85 is a true street-legal racer. The Spyker car got a specialized gearbox and clutch setup, enhanced braking system and no electronic systems like traction or stability control. It is ment for people that know how to drive a track-biased vehicle around mountain roads and city streets. The LM85 has been designed in the spirit of our Spyker Squadron GT2 (LMES) race cars and sports a GT2 inspired livery.
The powertrain of the LM85 is the same Audi 4.2 Litre V8 engine producing 400bhp. It is paired to a manual six-speed Getrag gearbox, driving the rear wheels with a Drexler limited slip differential.