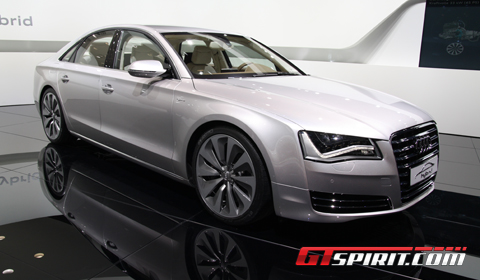 Audi is following the Green hype and as a result they introduced the A8 hybrid as a concept at the Geneva Motor Show. Its two engines – a 2.0 TFSI and an electric power unit – develop a combined total of 245hp (180kW) and deliver 480Nm (354.03lb-ft) of torque. Combined with the advantages of electric power, they continue the downsizing strategy which becomes more and more common in the automotive market of today. The fuel economy of this vehicle is an average consumption of just 6.2 liters (37.94 US mpg) per 100km.
The A8 concept car is a full hybrid. This means that it can be propelled by either the 'normal' engine or the electric motor alone – or by the combined power of both. The hybrid drive can drive the car on electric power alone at up to 65km/h (40.39mph) with a range of over two kilometers – enough for urban stop-and-go traffic. The energy storage system is mounted in the rear section.
The 'Green' Audi A8 accelerates in 7.6 seconds from zero to 100km/h (62mph) and achieves a top speed of 235km/h (146mph).
It is unclear when the Hybrid version of the A8 will hit the market. We expect a release later this year.