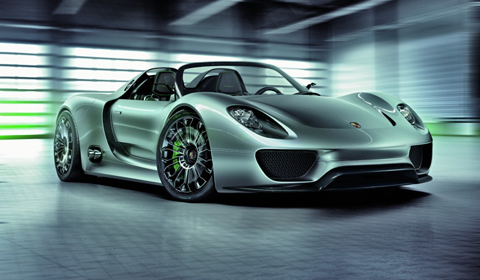 Porsche used the Volkswagen Group Press Conference this evening to present their Porsche 918 Spyder Concept. As unexpected surprises at motorshow's go, this ones a pretty big one. For starters, the concept itself is stunning. Powering the concept is an electric battery unit and a 3.4 liter V8 together producing the equivalent of 500bhp or 160kW.
Peak power is reached at 9,200rpm with power being delivered in one of four ways. A button on the steering wheel allows the driver to choose either an 'E-Drive' mode for running the car under electric power alone, with a range of up to 25km (16 miles). There's also a Hybrid mode in which the 918 Spyder uses both the electric motors and the V8 engine. The Sport Hybrid mode creates a greater focus on performance with Race Hybrid mode pulling the very best out of both power plants to create the ultimate sports car.
0-100km/h (62mph) would be possible in 3.2 seconds and the top speed is estimated at 320km/h (198mph).
The interior of the Spyder also offers a glimpse into what people can expect from future Porsche interiors. There is a new multi-function steering wheel, variable lighting and Range Manager, a new sat-nav system that shows the cars range.
Fuel economy is said to be 78mpg US (3L/100km). We will have more details and pictures for you tomorrow, for now, take a look at these few pictures.