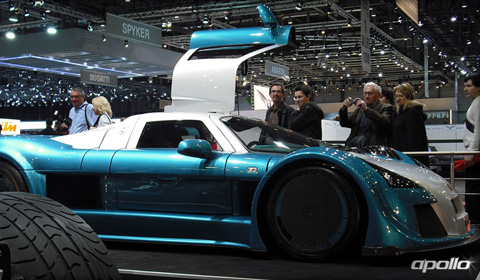 We receive more and more news regarding the premiers of manufacturers and tuners at the Geneva Motor Show next week. Gumpert just told us they will show their 2010 Gumpert Apollo. Their super sports car has undergone further development following extensive aerodynamic and responsiveness tests. The 2010 Gumpert Apollo has carbon facelifting that provides optimised airflow conditions that according to Gumpert are without compare. "It drives exactly how it looks: powerful, athletic, exciting." The new Apollo will have a unique F1 gearshift and 750hp. The exterior of the 2010 Gumpert Apollo is painted in contrasting black and white. This model will also be the first Gumpert to be available as a right-hand drive vehicle.
Last year Gumpert showed an even more powerful version version of their Apollo, the Apollo Speed, at the Geneva Motor Show. The Gumpert Apollo Speed (displayed above) has 800hp, good for a sprint from 0-100km/h in 3 seconds dead, 0-200km/h in 8,9 seconds and a top speed of 360km/h.
Tune in to our Geneva Motor Show 2010 channel for the latest news about the new Gumpert Apollo on display at Geneva.