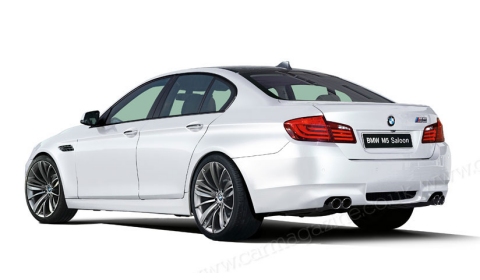 It isn't the first time we have discussed the 2011 BMW M5. Information regarding the engine setup, used materials and the availability of KERS were rumoured before. But more information has unveiled itself over the past few days.
The new M-type F10-series will be launched after a show debut in late 2010 or early 2011. According to Klaus Draeger, Member of the Board of Management of BMW AG, interviewed by CAR Magazine only a saloon will be available, there will be no new M5 Touring.
The engine will be a 4.4-litre V8 bi-turbo producing 578bhp and 530lb-ft of torque. The same engine as is being used in the X6M and X5M. Forced induction makes it the first M saloon to be turbocharged. The top speed will be limited to 155mph (250km/h) as a standard, unlimited top speed would top out around 188mph (303km/h). The acceleration from 0 to 62mph (100km/h) is performed in about 4.4 seconds. This is 0.3 seconds faster than the current model.