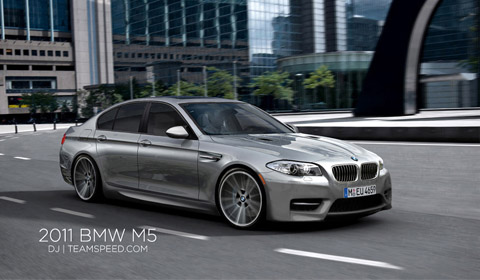 After the introduction of the brand new 5-Series it is a waiting game until we receive the official information about the F10 M5. Bimmerfile has collected information coming from multiple sources suggesting what the next-gen BMW M5 has to offer.
First of all there is the story concerning the engine. V10 or V8? The online BMW-blog suggests a twin turbo V8, currently used in the X5 M and X6 M. Expected output is 570bhp and torque is 500lb.ft. The transmission story is a nice one. Reports indicate that a beefed up version of the M3's DCT will find its way into the M5 with 7 forward gears and lightening fast shift times.
Weight is also a key factor in keeping the power-to-weight ratio as low as possible. Carbon fiber will be used for some body panels and there is an optional carbon fiber roof decreasing more weight. Other materials include aluminium. The M-division is even planning a rebuild of the entire platform in this material saving large amount of weight inside the structure of the M-vehicles.
Then there's another rumor about the KERS system. The system debuted in this years BMW F1 race car. The basic principal of KERS is that energy that is usually lost during braking is stored and/or converted into more power. The stored energy is released by a F1 like switch allowing for extra bursts power for a short time period. Many sources suggest that the system will be placed in the next version of the M5. We have to wait and see until 2011 when the F10 M5 is officially launched.