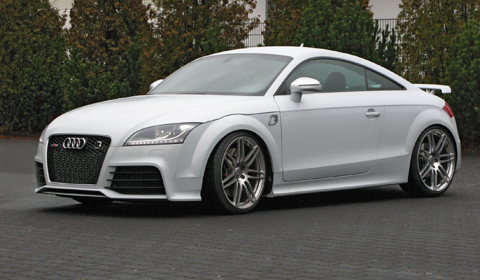 We have already reported on a number of different options for TT-RS owners looking to add a little extra performance to their car. B&B announced their intention to offer a kit this week. Packing more power than most rivals, their take on the TT-RS is a very attractive one.
Featuring 450bhp, it's faster than the V8 R8. Torque figures are up by 140lb-ft to 472lb-ft (640Nm) which means 0-100km/h (62mph) in 3,7 seconds and 0-200km/h (124mph) in 14,2 seconds. Top speed is a nice square 300km/h (188mph).
To achieve the increases, four stages of tuning are applied. The first involves an ECU tweak and a 0.2 bar boost increase costing €1,950 (£1,708) and releasing 410bhp. The next stage involves adding an extra 0.25 bar boost and optimizing the car's cooling systems to cope, at this stage the price increases to €2,950 (£2,652) for 425hp and 595nm.
Stage three brings the price to €8,950 (£8,052) and the power to 442hp and 625Nm. This is achieved by a further ECU tweak and a custom stainless steel sports exhaust. Finally, B&B switch the air filter for larger unit, releasing the full 450bhp for €12,950 (£11,642).
For sportier handling, B&B offer a suspension set lowering the RS by 20mm using sport springs or an 'adjustable thread chassis'. 19 and 20 inch, 4-/6- and 8-stroke braking systems, short shifter adaptions and aerodynamic parts can also be ordered through the company.