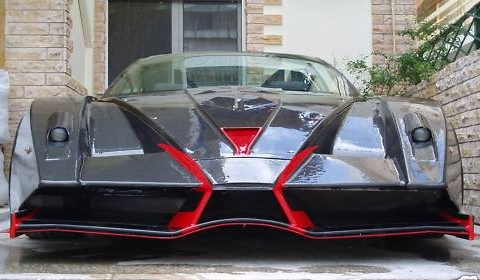 Our friends at Teamspeed spotted a brand new prototype of the Ferrari Enzo. Developed and handmade by a Greek designer Papanagnou Dimitris, the 'Italian supercar' uses high quality materials such as carbon fiber, aluminium and iron titanoum alloyed tubes. Yeah you read it correctly!
The technical characteristics of the vehicle include a four-wheel drive system, automatic-serial gearbox, advanced brakes and suspension system. A 3.7cc 300ps V8 engine from Audi is stage number 1. A second stage of 550ps at 5.000rpm and a third stage of 900ps at 10.000rpm are available upon request.
The vehicle size measures 4,800 x 2,144 x 1,240m. The wheel set used sizes 9 x 19 inch front and 13 x 19 inch in the back including Pirelli tires 255/35 ZR19 front and 335/25 ZR19 rear.
Mr Papanagnou Dimitris states the following about the current status of his project:
The car is nearly ready in a progress rate of 97% and it is ready to test. Doors and seats are nearly ready to be installed. The seats are handmade also (not these at photos, there is a choice of RECARO carbon seats in lower price). A remaining time of work is estimated around 5 to 6 weeks. You can choose the colour of the car (in photos there is no colour). More information could be granted through someone of your representatives that will investigate and test the car.
Price? A whopping US $800,000.00. Mr Papanagnou, please keep on dreaming ;)
For more information just visit Ebay!