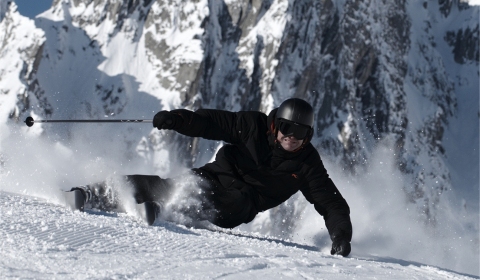 Snow is falling down! So that means fetching your snow gear and move to a resort to ski or snowboard. For those keen on having matching skies with their Bentley Supersports, the British car maker unveiled 'one-of-a-kind' zai for Bentley Supersport skis, handmade in Switzerland. The handmade skis, poles and ski bag have been designed exclusively for Bentley using new materials such as carbon fibre and chrome steel. The skis will be a limited edition of 250 numbered pairs.
Zaiìra is a novel composite material containing carbon fibres specially developed by zai. Zaiìra is used on the skis' top layer in combination with natural rubber in the central part as well as carbon fabric in composition with chrome steel in the torsion part. Additionally, long carbon fibre Reinforced Thermoplastic Composites (LFRTP) is also used.
The ski poles also incorporate a new technology, ExoGrid, used solely for the first time in the Bentley skis. The combination of the materials titan and carbon fabric reduces weight and guarantees high stability. The ski bag is also custom-designed and custom-manufactured by zai.
The skis price is €6,800 EUR, $9,800 or £5,900. The skis will be available to order in January 2010 and retailed via zai distributors.