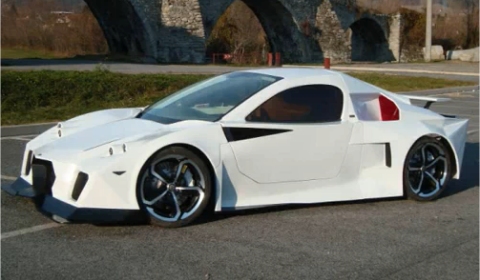 Let's put it this way. The following footage shows you a brand new vehicle; a new Italian supercar with a V10 engine producing a maximim of 627hp. We warn you for the footage shown below. This isn't a 'normal' way to market your brand new vehicle to the whole wide world and on the world wide web.
The car on display is created by a company called Tirrito Cars. The line-up of 'supercars' includes three models; the S, R and T. The S-model has a V10 engine and a six-speed gearbox. A V10 engine with 550bhp is placed inside the R-model. The third model, also named the Tirrito T, has a V8 engine with 500bhp and a manual six-speed gearbox. The total weight of each vehicle is 1120kg.
This line-up of Ayrton vehicles is Andrea Tirrito's dream creation and according to the owner "driving a Tirrito Ayrton means distancing yourself from every cliché, and leaving the crowd behind". Uh yes…
The Tirrito Ayrton supercars will be on display at Top Marques Monaco in April 2010. GTspirit will be there to check them out!
You really want to know more? Please click here for the official Tirrito website.