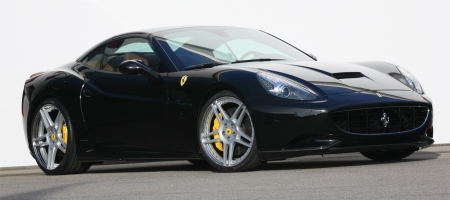 German tuner Novitec Rosso has unveiled their program for the Ferrari California. Sporty styling, a custom-tailored tire/wheel combination with diameters of 21 and 22 inches, suspension modifications, more power and interior options are included inside the package.
The aerodynamic kit contains parts made from especially lightweight clear-coated carbon fiber. The front spoiler attaches to the production bumper. The shape reduces lift on the front axle for better directional stability at high speeds according to Novitec. The sides are upgraded with rocker panel moldings and black side markers. They even equip the California with a newly designed diffuser for the rear apron and a spoiler lip on the trunk lid.
Three-piece NOVITEC ROSSO NF3 wheels are available in a combination of size 9Jx21 wheels in front and size 11.5Jx22 on the rear axle. Pirelli supplied the tuner with tires custom-tailored to this Ferrari. The front axle features tires in size 255/30 ZR 21, in the rear tires in size 315/25 ZR 22.
A set of sport springs lower the ride height by 35 millimeters. A hydraulic front lift system makes sure you have enough grond clearance and raises the front of the car by 40 millimeters at the push of a button in the interior. At a second push of the button or automatically when reaching a speed of 80km/h the front reverts to its original position.
The tuning stage for the Ferrari California increases power output of the 4.3-liter V8 engine by 40hp / 29.4kW to 500hp / 368kW. The peak torque grows from 485 to 518Nm at 5,300rpm. This increase of power was achieved by implementing a newly calibrated engine management system with custom mapping for injection and ignition. It also includes a new higher redline speed of 8,300rpm. A new stainless-steel exhaust system with metal catalysts and a flap actuator complete the package.
As a customer you can get an interior customization with leather and Alcantara. The choice of available colors and meticulously sewn upholstery designs is unlimited.