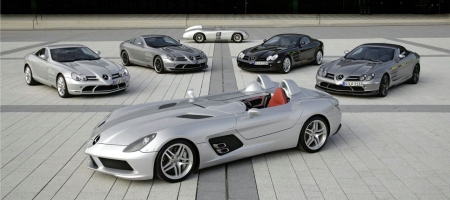 Sad news! Mercedes-Benz and McLaren are finishing the final models of the SLR Stirling Moss. The 'SLR'-story started in 2004 with the introduction of the swing-wing Coupé continueing the story of the legendary SLR racing sports cars of the 1950s.
Five exciting variants in the SLR family were made – two coupés, two roadster versions and the unique Stirling Moss. Overall 2000 SLR models have been produced, only 75 of them are the limited roofless version.
However, the heritage will not end. The ownership of a SLR also means a membership ticket to the SLR. CLUB. The spirit of the SLR will live on in this exclusive community of gentleman-drivers even after production ceases. The event calendar of the SLR. CLUB includes driving events on race circuits, participation in the Mille Miglia and tours covering picturesque routes in Europe. True enthusiasts will stick to the car.
Just as a farewell to the SLR we give you this video.