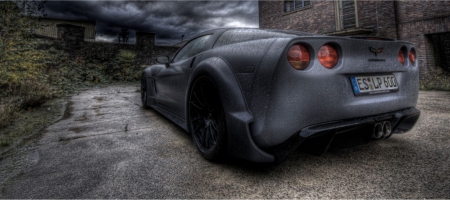 Just by checking out the name – C6.BlackforceOne – you wonder what does this Corvette hold within. Secondly the Stealth matt black, Eurofighter matt grey and White Storm matt white make this design from LOMA Performance even more special.
C6.BlackforceOne is based on the "normal" Corvette and not a Z-model. The width of the car was enlarged with ten centimetres on each side. Carbon fibre wheel arch extensions and carbon fibre side skirts are clearly visible and available with or without visible screws. LOMA has installed a carbon fibre front lip, rear diffuser with integrated LED reverse light alongside the extensions and an optional LOMA-Performance rear spoiler. Both have a carbon fibre finish.
The bi-turbo engine conversion produces 794PS at the crank. 675PS reaches the rear axle via a LOMA carbon fibre sports clutch, carbon fibre drive shafts and an overhauled gear unit. The corvette should hit 100km/h in just 3.4 seconds and a top speed of 330km/h. Other adjustments are an exhaust unit and a coilover suspension with adjustable stabilisers.
The power is placed onto the road via Michelin Sport Cup tyres in dimensions 275/30R19 and 335/25R20 mounted on 10 x 19 and 12 x 20-inch black OZ Racing Ultraleggera HLT alloy wheels. A carbon fibre/ceramic brake unit from Mov'it is available on request. The brake kit is a 15.5 kilograms lighter on the front axle and 10 kilograms lighter on the rear axle than ZO6 brakes.
The interior got some different door panels finished in carbon fibre and sections of the cockpit covered with Alcantara. C6.BlackforceOne customers can choose from 300 different types of leather. The sports steering wheel – 34 centimetres in diameter with Alcantara – is smoothed off on the underside. Refitted seats with shoulder rests are only half as thick as their series equivalents. Special foam ensures they are still comfortable.
C6.BlackforceOne is limited to 25 vehicles and will debut at the Essen Motorshow starting next Friday. Prices for a complete vehicle start at 190,000 euros.
Corvette C6.BlackforceOne @ Essen Motorshow