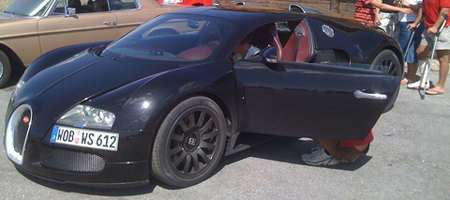 We've been speculating for a while about an up-rated Bugatti Veyron. We thought this might come this year, Bugatti's centenary year, however this now looks unlikely. It seems that these dreams are not quite extinguished yet though. A LamboPower reader recently posted these pictures showing what looks to be a Bugatti Veyron attached to monitoring devices as well as a few choice details.
Bearing in mind that all info is purely rumours, were not 100% sure what this car may have been testing (or for that matter whether the pictures are current).
The rumours suggest that this car is to be called the Veyron GT or the Veyron Grand Prix. As the Veyron's final variant it'll be the most extreme packing an uprated power figure as well as an increased rev-limit and a lighter weight.
The figures touted for the engine are close to 1200bhp. As we've said, the increased rev-limit may account for a lot of this as Bugatti may hope to push the car to a top speed to a staggering 260mph (420kph). With the weight loss also rumoured to be around 150kg, the Bugatti could potentially shave some time from it's 0-62mph (100kph) time as well.
We're told that the bodywork will be completely carbon fiber, a mixture of the 'Royal Blue' bare carbon fibre seen on the Sang Bleu and a matt black exposed weave making up the second colour. Upgraded brakes and aerodynamics will make the car Bugatti's finest hour.
As you can see from the photos, this Veyron is missing the engine casing which exposes two sensors which appear to be monitoring the engine. Inside the car there's clearly a laptop and the hole in the front grille suggests another hidden sensor.
Our source suggests that the car may be released at next years Paris Motorshow. If this all sounds familiar your probably thinking of the rumours that were present before the Geneva Motorshow 2009. Hopefully these rumours hold more truth!
[Via Lambopower]