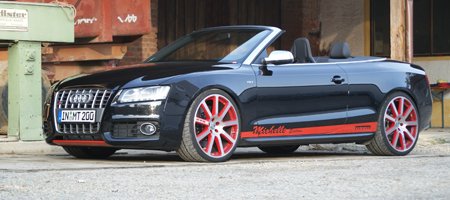 German tuner, MTM, are constantly upgrading their tuning range which means every now and again their customers get a small increase in power. For the 3.0 TFSI engine, found in both the S4 Avant and the A5 Cabriolet, they've now released an upgraded package boosting power up to 430bhp, just 10bhp short of the RS4's peak power.
Included in the package is an ECU re-program as well as a new quad-pipe exhaust set-up. The result is 430bhp and 515Nm of torque which delivers a 0-100kph (62mph) time of just 4.6 seconds. With the restrictors released, standard practice with the ECU re-program, the 3.0 TFSI will take the car to 285kph (177mph).
As we've discussed before, MTM offer a wide range of other services to aid your car in utilizing it's new-found power. Brakes, suspension and body-work additions are all available through the company.