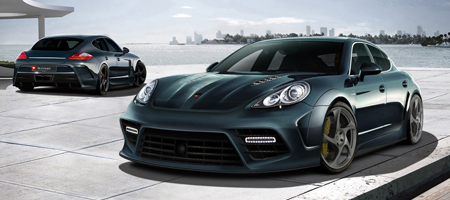 Since Mansory's acquisition of Rinspeed's tuning arm, we've seen a complete range of bespoke Porsche products. Separate from the main Mansory line, the Mansory Swiss brand have focused on giving the extreme Porsche's that Rinspeed used to produce a new lease of life. Their decision to modify the new Porsche Panamera therefore comes as no surprise.
We've seen a number of different takes on the four-door Porsche, Mansory's principal, as always, is to provide something a little different. We've seen a few normal tuning kits, the Techart and the Oakley Design concept come to mind. In comparison, the Mansory Panamera is much more extreme. As always, there is a heavy reliance on carbon fibre parts.
Aerodynamic upgrades start at the front where the front bumper, bonnet and both fenders have been replaced. The carbon air intakes increase airflow and above all, look sporty. New rear fenders include another new air intake plus there's a new side skirt. As we get to the rear we see where much of the design efforts have gone. There's a whole new diffuser and rear bumper which includes a unique central, dual exit exhaust. Plenty of Carbon Fibre round here as well as a deeper air intake.
The car is said to sit 35mm lower to the ground on a set of 21 inch alloys. Two wheels are on offer including a five spoke turbine look alloy and a more standard five spoke wheel.
As with everything that Mansory produce, they like to cater to any taste. The interior is of the customers choice. Whether you want a specific leather, wood, varnish or even carbon fibre, Mansory can provide it. It's a very attractive kit and we look forward to seeing one as well as hearing more about the engine upgrades and general details.