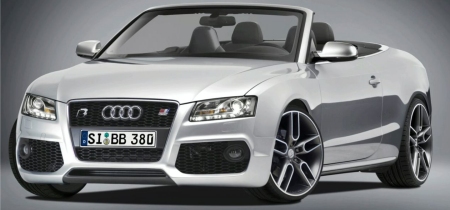 Audi specialist B&B has unveiled its tuning program for the Audi A5/S5 Cabriolet with a 3.0 TFSI engine kit reaching up to 415hp and 520Nm. The full line-up also packs kits for the 2.0 TFSI, 3.0 TDI and 2.0 TDI engines and an aerodynamic package, new wheels, suspension changes, exhaust system and exhaust silencer.
The 3.0 TFSI package also includes the installation of a new developed sport exhaust system decreasing the exhaust gas back pressure and the temperature of the exhaust gas. In association with an optimized airflow and re-balanced engine electronics with slightly increased boost pressure a new speed limit of 285km/h is reached. Of course this also asks for the removal of the speed limit.
The A5 Cabriolet 3.0TDI kit will reach up to 325hp and 640Nm. The three stages of the tuning program for the A5 3.0 TDI start with an electronics upgrade and a slightly increased boost pressure of 0.15bar. This lets the engine reach 280hp and 585Nm. The second electronic optimization reaches up to 300hp and 600Nm. Due to special unit-injector elements in addition to changes to the suction pipe, the airflow and the air cooling system this engine will reach 325hp and 640Nm.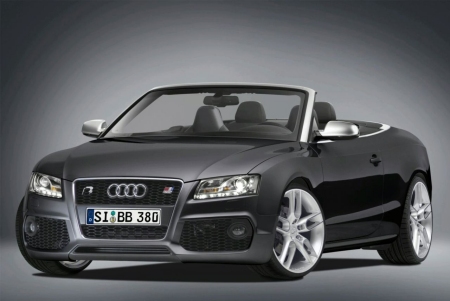 The first stage of the four-staged tuning program for the A5 2.0 TFSI starts with an electronics change and a slightly increased boost pressure to let the 2.0 liter engine reach 250hp and 400Nm. In stages of 260 and 295hp the engine reaches at stage four 310hp and 465Nm. This performance is reached by installing a special turbo charger and changed airflow systems in addition to a special air cooling system. To pull down the exhaust gas pressure, B&B will install a sport exhaust system with a special intermediate exhaust pipe and high performance catalyst. Finally the ignition map will be recoded.
For the Audi A5 Cabriolet with the new 2.0 TDI Common-Rail engine with 170hp/350Nm are also some tuning stages available. The first stage increases the engine performance to 200hp and 400Nm. The second stage lets the engine reach 220hp and 420Nm.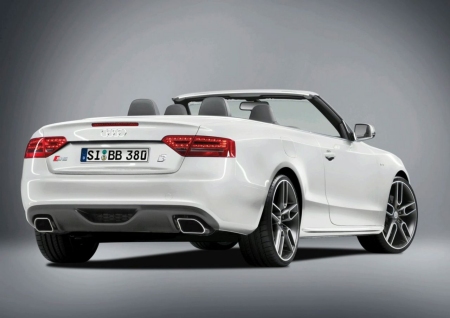 B&B has more options available. They can install a special adjustable suspension, possible as comfort or sport version and adjustable in height by up to 40 mm. You can combine these addings with a B10 or B12 wheel set with a size of 9″ x 20″ and a maximum tire size of 255/30-20. Also new 40mm suspension plumes and a different exhaust silencer are available. A new aerodynamic program with shapely exhaust pipe end in "RS-Style" rounds up the full kit.