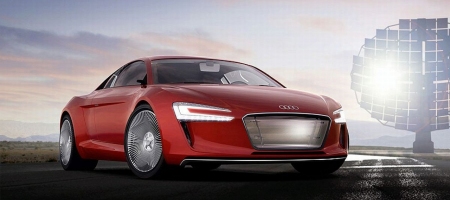 The Audi E-tron is heading our way! Audi America President Johan de Nysschen stated that an electric vehicle based on the electric R8 concept shown on the IAA 2009 will debut in the United States in two to three years. He officially stated to Autoweek.com; "I expect we will see running examples in the next 24 months".
The Audi E-tron has four separate motors attached to the front and rear axles, creating a quattro system. The R8-shapped model produces 230kW or 313hp and 4,500Nm of torque. A sprint from 0 to 100km/h (62mph) is achieved in 4.8 seconds. The top speed is limited to 200km/h (124mph). A range of 248 kilometers using a lithium ion battery positioned behind the passenger cabin providing 42.4 kilowatt hours of energy should be possible according to Audi.
For more information on the Audi E-tron check out our coverage story from the IAA 2009.
[Via Autoweek.com]