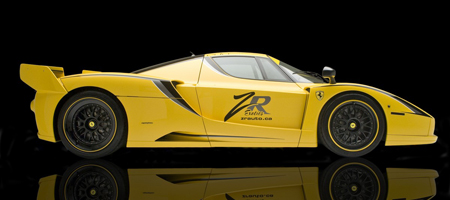 Tinkering is the name of the game between Edo Competition and Ferrari's flagship Enzo. We told you about the Edo Competition Ferrari Enzo XX just two months ago, yet here we are telling you about an even more extreme version of that already insane hypercar. This time, Edo have really pushed the boundaries of what's possible, replacing many of the car's original components to create their vision of a hypercar.
The German's are known for their legendary efficiency which means they've told us about almost every aspect of the car. We start with what they've changed to release a square 840bhp from that Ferrari V12. First off is a increase in displacement: 6.0 litres to 6.3 litres. Taking the new bigger engine as a building block, Edo Competition then added new camshafts, titanium valve spring retainers and connecting rods, modified cylinder heads, new high performance exhaust headers, high flow catalytic converters, mufflers and air filters. Solid tappets create replace the hydraulic tappets found on Ferrari's Enzo under normal circumstances.
Peak power is produced at an astonishing 9,600rpm. A new intake system and high performance clutch allow reliability despite the dramatic increase in power. Edo claim that if the bafflers in the new exhaust system were to be removed then the engine would release an extra 20bhp to bring the total power figure up to 860bhp! Torque is 780Nm and peaks at 5,800rpm.
The performance is in line with some of the most exotic machinery on the planet. A weight loss of 100kg means that 0-100kph (62mph) is reached in 3.2 seconds, 200kph (124mph) in 9.0 seconds and 300kph in just 19 seconds. The top speed is claimed to be 390kph (242mph). Also contributing to these times is the F1 gear which shifts at 60 milliseconds almost twice as quick as the standard car and only 20 milliseconds slower than the best Formula 1 gearboxes.
The stainless steel exhaust system features a system that lets you choose between two different exhaust noise settings. 19 and 20 inch alloys fit the front and rear respectively. As you can probably tell, the Enzo XX Evolution is strongly influenced by the Ferrari FXX Evolution project.
If you wish to have these updates applied to your Enzo, Edo Competition will carry out the work exclusively at the German companies headquarters. A test day with an instructor, mechanics, data logging, transport and hospitality are included in the conversion package. We don't know what the price is but if your looking at getting these modifications done then the likelihood is that you won't really care!