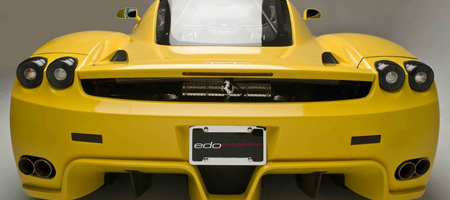 A decent Ferrari Enzo will cost you close to €1 million nowerdays. Despite this fact, Edo Competition have tweaked the Enzo once more to extract a little extra power from it… well we say a little… it's actually an extra 100bhp on top of their last package and an extra 150bhp over the standard cars 650bhp. Yes, this Enzo produces 800bhp!
We're used to seeing Edo Competition tinker with some of the worlds most exotic supercars. We've seen their MC12's, their 599 GTB's and their rear wheel drive Murcielago's but this re-generation of the Enzo, named the Enzo XX, is the highest power output we believe we've seen from the German company.
As you'd expect, the list of modifications is extensive. It features new steel cylinder's and piston's taken from the design of the FXX as well as new camshafts, titan valve springs and connecting rods, oil cooled piston pipes and newly designed exhaust manifolds. There's a new sport catalytic converter, sport air filter, air-ram system, fuel cooling system, a new clutch, all new bearings, new oil pump and finally new gaskets.
All work will be run in on the Dyno which will be able to check that the Enzo XX is infact producing the promised 800bhp. As you'd also expect, the new catalytic converters are adjustable to two different settings allowing a Ferrari wail and at the touch of a button, a more composed sound, perhaps for longer distances.
The Enzo XX is capable of a 3.2 second 0-100kph (62mph) time with 200kph (124mph) arriving in just 9 seconds and 300kph (186mph) in just 19 seconds. Top speed is up to an estimated 380kph (236mph)!
Another feature is the new carbon ceramic brake disks that measure 396mm at the front and 360mm at the rear. Adjustable damping, carbon fibre air intakes and individual body and wheel colourings are also included.
All together, the Enzo XX sheds around 100kg of weight over the standard Enzo which obviously holds its advantages for handling. New 19 and 20 inch wheels are wrapped in Michelin tyres.
All these modifications make us think, is there still a market for these types of modification? We hope so because 800bhp sounds exciting to us!
PRESS RELEASE
Specifications
Engine  V12 cylinder 6.3 ltr.
Power  est. 800 hp/(588 kW) / 8.500/min
Max. torque  est. 780 Nm / 5.800/min

Performance
Top speed  > 380 km/h
0 – 100 km/h (0 – 62 mph)  est. 3.2s
0 – 200 km/h (0 – 124 mph)  est. 9.0s
0 – 300 km/h (0 – 186 mph)  est. 19.0s

edo Tuning Program Enzo XX
Power increase 170 hp – contains new steel cylinder and piston 6.3 l (same like FXX ), new camshafts, new Titan valve springs, new Titan connecting rods, new oil cooling piston pipes, new exhaust manifolds, sport catalytic stainless, sport catalytic converter, sport air filter, air-ram system, fuel cooling system, new clutch, all bearings new, new oil pump, new gaskets, and dyno running with all work
Sport catalytic converter stainless with two level switch controlled sound system, new tail pipes in carbon. Volume of the exhaust per button push adjustable
Ceramic sports break system with 396 mm brake disc front and 360 mm brake disc rear, special brake pads in front and rear
Wheels can be painted in different designs
Tyre-air-pressure control system shows pressure and temperature per wheel
Design modification outside for example complete different colour
Independently adjustable dumping technology – rebound and compression dumping like FIA – GT MC12
Air-in-take from carbon
Weight reducing program 100 kg!!
New Racing wheels front 10 x 19 with 265/35 ZR 19 Michelin, rear 13 x 20 with 335/30 ZR 20 Michelin