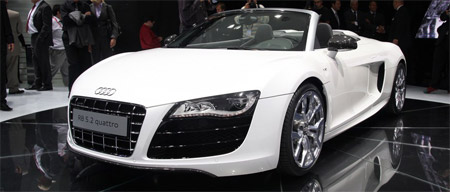 Why not add open-top driving to an existing supercar? That is what the guys at Audi thought when they started the development of the new Audi R8 Spyder. We knew already that it was coming, but we couldn't resist taking a closer look at the new roofless 5.2 FSI quattro supercar from Ingolstadt.
The main specs aren't much different from the coupé. The V10 engine produces 386kW (525hp) and sprints to 100km/h (62mph) in 4.1 seconds up to a top speed of 313km/h (194mph). The two-seater features an Audi Space Frame (ASF), quattro permanent all-wheel drive, full-LED headlights and a seatbelt microphone available as an option.
The Spyder does not have sideblades behind the doors. The side panels and the large cover over the storage compartment are made of a carbon fibre composite. The supercar has a cloth top. Reason why? The soft top's has less weight and keeps the vehicle's total weight and center of gravity low. The soft top – available in a choice of three colours – opens and closes in 19 seconds, even while driving at speeds up to 50km/h (31mph). There is a heated glass window, which is separate from the cloth top. It can be independently raised and lowered.
We have to discuss the first ever optional seatbelt microphone for the hands-free unit. Audi placed three small, flat microphones into both seatbelts. At least one of them is ideally positioned relative to the speaker when the belt is on. There is a fourth microphone in the windshield frame. Using at least two mics and a system called noise cancellation will ensure you have clear conversations even with the top down on the highway.
The Audi R8 Spyder 5.2 FSI quattro will be available in the first quarter of 2010. The base price will be around 156,400 euros.