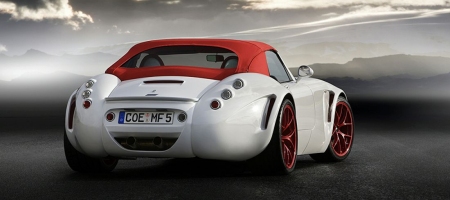 Wiesmann is preparing the release of the MF5 Roadster at the IAA 2009. The first official photo gives us some inside into the looks of the rooflesss German sports car. The styling stays very close to the coupe's styling, adding a top from cloth material and in a contrasting colour.
The Roadster MF5 – only limited to 55 – is powered by 507hp BMW V10 engine used in the M5. The roadster will speed from 0 to 60mph in 3.9 seconds and has a top speed of 192mph.
The package consists of heavy-duty safety technology including an aluminium monocoque chassis with integrated side-impact guards, dual-stage driver and passenger airbags and systems like ABS, stability control and more…
Prices starts from €189,500, or about $267,500.
[Via MotorAuthority.com]