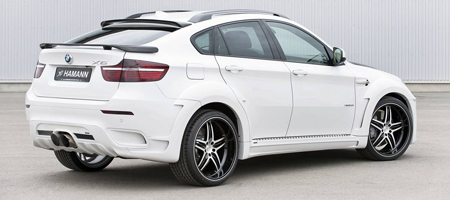 For many German companies, the Frankfurt Motorshow will be the highlight of the year. For Hamann this is no different which is why they intend to show us a few new products. We've already seen the new wheels designed specifically for the California, now we can show you a few upgrades on the Hamann Tycoon. Called the Hamann Tycoon 'Evo'  the new kit adds some extra visual modifications.
As you can see from the photos, the rear area has been redesigned. The new central exhaust system sticks out most, Hamann promise they create a better soundtrack than the original. The new wheel arches make the car 60mm wider than standard, a redesigned front bumper allows a greater airflow around the body and LED daytime running lights also add visual impact. A new rear spoiler set does the same as well as making creating a small aerodynamic impact.
To give the car a sportier look, Hamann have lowered the Tycoon EVO by 40mm. Huge 22inch wheels help fill the rest of the empty space, sized 315/25 R 23, they are finished in black.
Hamann offers this kit for the whole X6 range which means they cater for all BMW engines. The xDrive35i gains 54bhp to total 360bhp, the xDrive30d now totals 265hp with 600Nm (!) of torque and the xDrive50i now delivers 500bhp. After reducing the limiter the xDrive50i will be capable of 300kph (186mph) and the xDrive35i will also be capable of a modest 275km/h (171mph).
All power gains are done by adjusting the car's ECU and adding the new sports exhaust system.
Pedal's, footrests, mats, steering wheels, badges and other goodies will all be made available for owners to customize their cars. We can't wait to see it at IAA 2009. For more information visit Hamann's website.