Here's the first official update of the Quote Challenge 2009.
More and more information about the teams makes it onto the web. The first one is this Audi R8 covered in teak wood stickers that was spotted in Amsterdam last week, their team name: the Stiletto Yacht Company.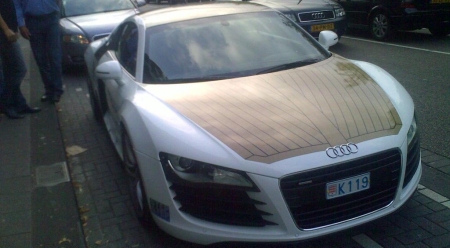 Other participants worth mentioning are Puff Daddy and Puff Son in a white / gold Rolls-Royce Phantom and the red Porsche GT2 from team Lightning McQueen in full "CARS" livery, complete with chequered flags and stickers that make it look as if it came straight from the animation movie.
Organiser Sjoerd van Stokkum is the proud driver of the matt-green Mercedes S65 AMG with 'El Presidente' on the side and presidential flags on the bonnet. He chose for the Khadaffi theme this year as "that's something that's still resepected in these countries". With these countries he clearly didn't mean The Netherlands as he received the first 600 euro fine few minutes after departure in Amsterdam.
The highest fine so far has been awarded to team Lightning McQueen with the red 997 GT2, right outside Belgrade they got fined 1000 euro and we bet it wasn't a parking ticket. After a lap through eastern Europe and the Balkans the Quote Challenge 2009 will finish in Rome in a few days.
[via quotenet]