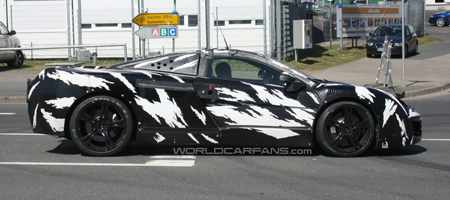 After diluting the brand a little with the Mercedes McLaren SLR, McLaren are back with another lightweight sports car. This time it's being produced completely to the companies own specifications. That means the focus will be placed on the driving experience. These spy shots were caught at the perfect place then! The Nurburgring has always been the place to test extremes of handling, the P11 is pictured here doing just that.
The P11 is already beginning to shape up, the long rear end reminds us of the legendary F1. Power is to come from a Mercedes AMG-tuned 550bhp 6.2-litre V8 linked to a semi-automatic paddle shift gearbox and with the help of lightweight panels, the weight will be kept down to around 1,250kg.
We'll keep you updated when we hear more news.
[Via WorldCarFans]