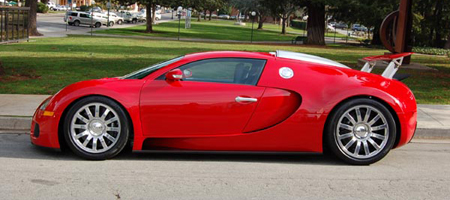 Just under two weeks ago a court application was filed against Bugatti Automobiles S.A.S. by Canadian soon-to-be customer Barry Zekelman. It's alleged that Bugatti failed to refund the customer who had paid, in full, for a 2009 model year, Italian Red Bugatti Veyron. After it became apparent that the order couldn't be fulfilled the customer applied for a refund of his payment only to be left waiting for over eight months.
The legal documents detail how the owner was contractually obliged to pay a deposit of $427,935 before settling the $1,553,354.57 bill three months later. The claimant was then told, just eight days after, that the car couldn't be delivered and was instead offered a 2008 car that was located in California (presumably used). The owner then set about claiming a refund as the contract had stated only to be strung along on claims that the money was coming.
You can see the court papers here. The six counts listed against the French company are I) Breach Of Contract II) Violation Of The Michigan Consumer Protection Act III) Recission Count IV) Unjust Enrichment V) Conversion VI) Claim And Delivery.
The claiming is pursuing his money back ($1,553,354.57), plus interest, costs and attorney's fees.