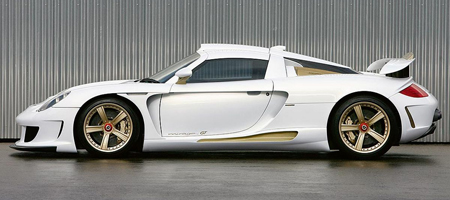 Despite the current economic climate and the fact that the fact that Porsche no longer produce the Carrera GT, Gemballa seem to be producing one-off Mirage GT's monthly. We've seen the Matt Edition and the Carbon Edition recently and now we're getting info on the recently finished Gold Edition.
The Gold edition shares the same specifications as the rest of the Gemballa Mirage range. It's got 650bhp and takes 3.7 seconds to get to 100kph (62 mph) with a top speed of 335 kph (208 mph).
On this car, however, Gemballa have fitted a HLS-Suspension kit which raises the ground clearance by 45mm at the touch of a button. No doubt this car will be going somewhere in the middle east.