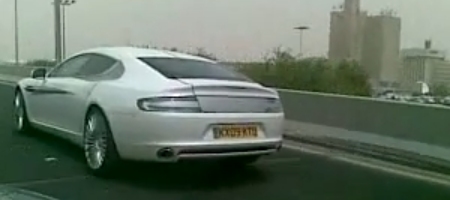 The past days we discussed the new Bugatti Bordeaux, a new four-door luxury saloon. However, Bugatti is not the only one developing a sports car with four doors. Porsche has its Panamera, Lamborghini had its Estoque and Aston Martin has the new Rapide concept. Spotted several times on roads in Europe, some guys from Kuwait saw it driving around their homeground. Do not forget to pump up the volume for the wonderfull sound…
… coming out of the radio inside the car.
The Rapide is expected to make a full release at the Frankfurt Motor Show when it'll be released to go head-to-head with Porsches Panamera and Maserati's Quatroporte.