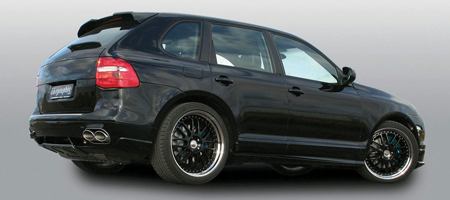 Following in the footsteps of Techart, German tuner Cargraphic have found some time to add a few modifications to Porsche's Cayenne Diesel. Their interpretation sees the oil burner reaching a new power figure of 290ps (286bhp), up from the standard car's 240ps (236bhp).
Torque for the Cargraphic version is up to 630Nm, 80Nm over the standard car. 221kph (137mph) is the top speed, respectable for a diesel. The Cayenne's power upgrades have been attributed to it's ECU tweaks, making the most out of the engines potential.
A Cargraphic bodykit is also available featuring a new front valance, rear diffuser, side skirts, and wheel arch extensions. Finally, a range of alloys have been made available ranging from 20 to 22″ diameter.
[Via WorldCarFans]
PRESS RELEASE
Cargraphic offers a 290PS Cayenne Diesel with muscular looks.

Burning Rubber and Oil!

With its interpretation of the Cayenne Diesel, Cargraphic proves the emotional sparks can still fly high, even when the engine doesn't use spark plugs. The tuner from the Pfalz takes the finest cars and raises its pulse, and that of the driver. After the "electronic" stimulation provided by Cargraphic' s Cardiologists, the V6 Turbo diesel pumps out 290PS (213kW) instead of 240PS (176kW).

With more power than 100,000 human hearts pulsating under the hood, the Cayenne could theoretically move a weight of 21.75 tons upwards. But the fortunes of a Cargraphic driver lie on the street. "Here it's the torque, even more than the outright power, that is really impressive," explains Cargraphic CEO Thomas Schnarr. 630Nm peak torque (compared to 550Nm in the standard model) means the Cayenne kicks down like an Olympic sprinter firing from the starting blocks.

The increased efficiency of the motor shows is clear from the constant grin of the driver, as well as on the speedo. The needle only stops at 221km/h, but with the electronic suspension module it could even be a touch faster, thanks to improved aerodynamics and reduced drag. To back up the performance, the optional Cargraphic body kit gives the Cayenne an even more muscular look, without losing the elegant tone. The Sport Design front lower valance is available with two fog and high beam lights and brake cooling channels. Then there's the rear diffuser, wheel arch extensions and side skirts, all produced in high-quality GFK, that complement the German-built light alloy wheels ranging from 20 to 22″ in size. That's how easy it is to pour more power into a diesel engine and fuel the flames of automotive passion.