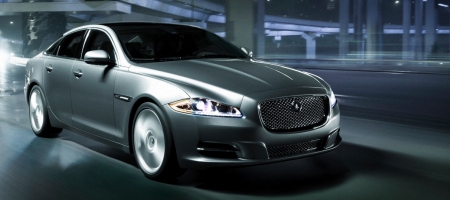 The new Jaguar XJ has officially been launched by Jay Leno. As we told a few hours ago some info already leaked out to the public. Now that the official information is available we can show you the new luxury car, which follows the successful update of the XK and launch of the XF, completing Jaguar's revamp of its model line-up.
The new XJ shows us traditional Jaguar styling cues, such as a wire grille, new sides that come straight down. The roofline also extends back far over the trunk – which looks rather "unique" we must say -, with small triangular windows behind the main rear side windows.
Jaguar asked stereo maker Bowers & Wilkins to develop the audio system for XJ as they did for the XK and XF. A wooping total of 1,200 watts of amplification is build in this new Jaguar. It includes a media hub with two USB ports for iPods and Bluetooth audio streaming. The XJ gets a 12.3 inch high resolution screen for its instrument cluster, with virtual speedometer and tachometer. The center LCD is an 8 inch touchscreen for controlling audio, navigation, and the phone system.
The car will be built as a standard XJ and in a long wheelbase model, called the XJL. The base for the car is a 5-liter V8 engine making 385 horsepower. A supercharged version will also be available with 470 horsepower, and a Supersport model makes 510 horsepower.
The new Jag will go on sale in September.