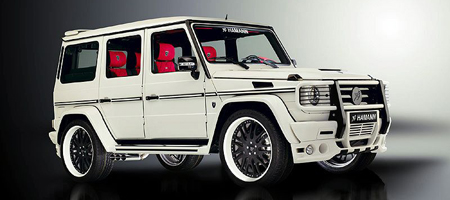 The iconic Mercedes G-Class is still yet to see it's demise. The rich and famous still love them. This leaves tuners such as Hamann, a company not particularly known for their good taste, free to butcher them as much as possible whilst still finding enough interest to turn a profit.
The assault of the senses starts with a series of modifications to the exterior, carbon fiber mirrors, door handles, fender vents, and a massive front grille are all part of the package. The usual daytime running lights put in an appearance as does a revised rear bumper, diffuser and mandatory rear spoiler.
Capping off the cars ode to bad taste is a six pipe, side exit exhaust system and huge white/black contrast, 24 inch alloys.
Engine mods mean that this G-Class produces 600bhp and 782Nm of torque. Not as much as the Brabus G-Class we saw at Geneva. The extra power is gained through a high performance HM600 power kit that includes new engine electronics, a stronger belt pulley set, and a revised transmission with its own oil cooler. 0-100km/h (62mph) is now possible in 5.1 seconds and the top speed is 261km/h (162mph).
[Via WorldCarFans]