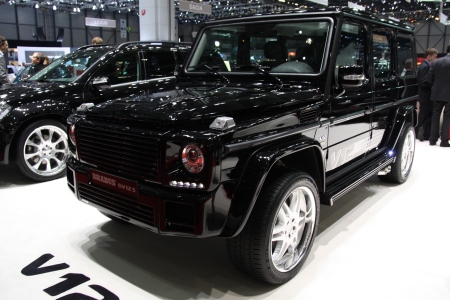 The G-class is known as one of the most capable off-roaders of his time. BRABUS achieved in building a twin-turbocharged V12 version with 700 bhp. It is hard to believe but we saw the "beast" at the Geneva Motor Show today.
Off road with a 700 bhp strong car sounds ridiculous. BRABUS thought the same thing and stripped the G-class of its off-road capabilities. The 21 inch alloy wheels together with 295/40 R21 tires will put down the power on the asphalt.
The german tuner increased the V12's from 5.5 to 6.3 liters. It produces 700 bhp at 5,100 rpm and a peak torque of 1,320 Nm at 2,100 rpm. The five-speed transmisstion and permanent four-wheel drive the G-class ensures a 0-100 km/h in 4,3 seconds. The top speed is limited electronically to 240 km/h or 150 mph.
Next to the engine upgrades the G-class got several outside and inside enhancements like aerodynamic components, a new rear bumper, a sport steering wheel, speedometer with 280 km/h scale, stainless-steel scuff plates with illuminated BRABUS logo and a handcrafted fully leather interior.