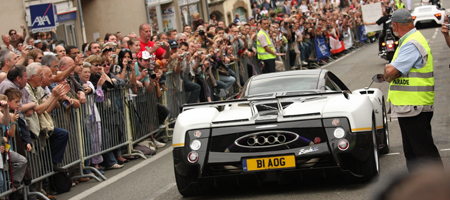 This Personalized Pagani Zonda has been designed specially for Peter Saywell, an English businessman and car enthusiast. It apparently sits on top of a Zonda F chassis and utilities a gearbox designated for the upcoming C9. It replaces a Zonda F that recently sold at Coy's Auction in London for £700,000 (€823,000).
The most noticeable exterior difference between this car and the standard one is the modified exhaust. Instead of sitting in a quad-pipe circle, the exhausts have been re-arranged to sit in a row. Also evident is the redesigned diffuser, a much larger device that we've seen before on the Zonda F Cinque. Whats odd about this car, and the reason we don't think it's a Cinque, is that it doesn't carry any other Cinque traits. Theres no extra air vents on the wheel arches and no ram air scoop on the roof. The Cinque that was shown in Geneva also had the standard Zonda exhaust.
Peter Saywell owns many exotic cars. The Zonda PS will be joining a Koenigsegg CCX, Carrera GT, LP640 and Techart GTStreet among other things. The car was spotted on it's way to LeMans 2009.
[Via Autogespot]