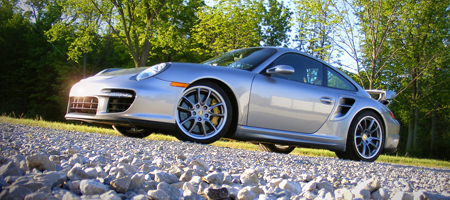 From the land that gave us Hot Rods and the quarter mile, Switzer Performance have released details of their tuning kit for the 997 Porsche GT2. It's slightly less that the 'Sledgehammer' that we reported on earlier in the year, however this ones designed to be more comfortable and useable on the roads. It's a $39,000 (€28,000) performance package with a number of key modifications.
Whereas the sledgehammer did away with plenty of the OEM parts, the new GT2 PKG is a true bolt on package, making use of as many sledgehammer products as possible.
Custom Garret GT30R-based turbochargers with custom billet compressor wheels in a lightweight stainless turbine housing make up the bulk of the power upgrades. MONSTER intercoolers channel the much needed air to cool the engine and turbos down. A tweaked ECU and a brand new, 911 Turbo based exhaust system has also been fitted to achieve the huge power figure.
The Switzer Performance kit is available from official Switzer Performance retailers in the United States.