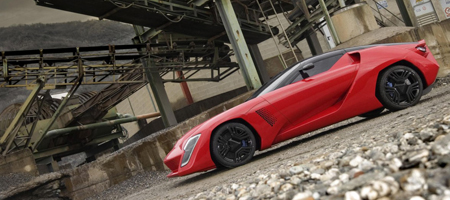 Bertone have used the Shanghai Motor Show to show their latest piece of work, the Mantide. Based on the Corvette ZR1, it's a one-off coachbuilt model thats designed to show case Bertone's design expertise. It comes from the drawing board of Jason Castriota, famed for penning such cars as the Ferrari 599 GTB, Maserati Birdcage and Ferrari P4/5 by Pininfarina.
It draws it's inspiration from a number of sources, including Formula1, Aerospace and past Bertone projects. The aerodynamics of the car are said to be much more efficient with drag reduced by 25% and a 30% improvement in downforce. We presume these figures are taken against the Corvette ZR1 which the car is based upon. The figures are produced in part by a flat floor and diffuser set up as well as the cars mixture of smooth and angular edges.
Weight saving measures were a large part of the Mantide concept, the whole body is made of carbon fibre and as a result, weighs 100kg (220lbs) lighter. 0-62mph (100kph) in just 3.2 seconds and 217mph (351kph) are the result as well as better handling overall. The design features of the cockpit area include butterfly opening doors and an aviation ispired teardrop canopy.
As far as petrol performance cars can, the Mantide is also said to have 'lower fuel consumption' as a combination of all it's different design elements.
The Mantides mixture of lines and angles give it an odd look. The car has many unique features including the angular wheel arches and the low, angular front lip. The rear reminds us of the Bertone designed Alfa Romeo BAT Concepts, more specifically, the 2008 BAT-11 Concept.
We have included some pictures from the unveiling (via Jalopnik) plus the viral videos that the company have released throughout the production of the million dollar project. Let us know what you think by leaving a comment in the box below…
Other videos can be found here.